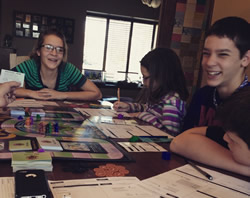 With a plethora of homeschooling resources on the market today it can be overwhelming to navigate through all the options to find the best ones for your family. We know from experience! With a vision for homeschooling far beyond the 3 R's, we set out looking for and incorporating materials that were founded on a biblical worldview and encouraged academic excellence.
In addition to creating some of our own materials, we found a variety of additional resources that aligned with our vision. There was still something missing, though, as we often scrambled and struggled to teach and correlate everything in a way that made sense to our children and ignited their own love for learning.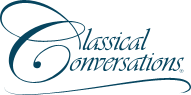 In the spring of 2015, we became aware of a program called Classical Conversations (CC). The more we investigated, the more we discovered that CC was a beautiful melding of a God-centered approach to education with a rigorous academic emphasis in the context of a supportive community! And thus began our venture into not only participating, but also directing/tutoring a Challenge A seminar in our community. Although we are still newbies to this specific model, we are excited to continue on this journey to know the truth, live the truth, and speak the truth with excellence!
Here are a few specific resources we've used and found very beneficial:
Summit Ministries YouTube Channel – Dozens of videos of excellence speakers on various topics!
4 Questions That Destroy a Kid's Faith in God … 4 Answers that Anchor Lifetime Belief – A step-by-step emagazine with articles, stats, and videos. Great to go through as a family!
History Revealed: Ancient Civilizations and the Bible – A fun unit study curriculum that provides a framework for studying history, geography, science, language, and the arts.
Dispatches from the Front – A series of videos produced by Tim Keesee as he travels around the world getting live footage and firsthand testimony from people spreading the gospel of Jesus Christ!
Sword Study Bible Studies for Family Discipleship – Excellently written Bible studies with workbooks available for various ages to facilitate the whole family studying a book of the Bible together. We especially loved the 1 John study!
Cashflow – A board game to help you and your kids develop financial intelligence.